Tham gia

1/10/16
Bài viết

297
Thích

260
Nơi ở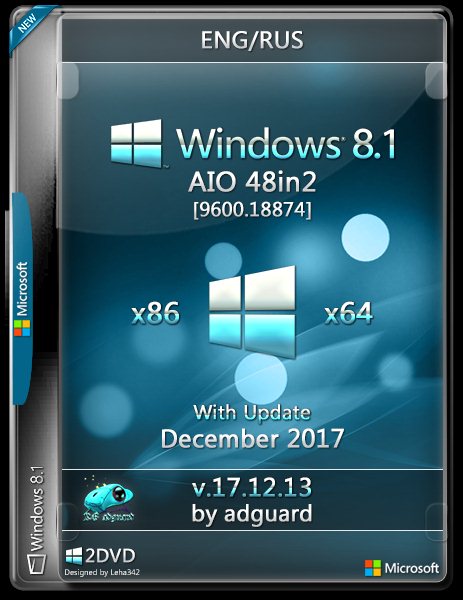 The program version: 6.3.9600.18874 / v17.12.13
Assembly Author: adguard
Language: English, Russian
Legalization: activation is required!
(for personal testing, use alternative means of activation)
System requirements:
* Processor: 1 gigahertz (GHz) or more.
* RAM: from 1 gigabyte (GB).
* Free space on the hard disk: from 16 gigabytes (GB).
* Graphics adapter: Microsoft DirectX 9 graphics device or newer version.
* Additional requirements for the use of certain functions.
* To use the touch capabilities requires a tablet or a monitor with support for multi-touch technology.
* To access the Windows Store for downloading and launching applications, you need an @ctive Internet connection and a screen resolution of at least 1024 × 768 pixels.
Description:
The assembly is made on the basis of the original images from MSDN. The following languages were integrated: English, Russian and updates by December 12, 2017. The distribution package includes the Net Framework 3.5 (includes .NET 2.0 and 3.0). The systems are completely on the original installer. It is possible to install both from under the BIOS, and from under the system.
Checksums:
en-ru_windows_8.1_with_update_9600.18874_aio_24in1_x64_v17.12.13_by_adguard.iso
CRC-32: f97275b6
MD4: bb0f1fc27ac74556be49bfe24c833f37
MD5: 8288443dcebc8338f253a619d8fed5ed
SHA-1: 36b082c0fec5e17dab09af5f54aecde67326f2da
Composition of the assembly:
en-ru_windows_8.1_with_update_9600.18874_aio_24in1_x64_v17.12.13_by_adguard.iso
Windows 8.1 Single Language (64-bit) — English
Windows 8.1 (64-bit) — English
Windows 8.1 Pro (Retail) (64-bit) — English
Windows 8.1 Pro (Volume) (64-bit) — English
Windows 8.1 Pro with WMC (64-bit) — English
Windows 8.1 Enterprise (64-bit) — English
Windows Embedded 8.1 Industry Pro (64-bit) — English
Windows Embedded 8.1 Industry Enterprise (64-bit) — English
Windows 8.1 N (64-bit) — English
Windows 8.1 Pro N (Retail) (64-bit) — English
Windows 8.1 Pro N (Volume) (64-bit) — English
Windows 8.1 Enterprise N (64-bit) — English
Windows 8.1 Single Language (64-bit) — Russian
Windows 8.1 (64-bit) — Russian
Windows 8.1 Pro (Retail) (64-bit) — Russian
Windows 8.1 Pro (Volume) (64-bit) — Russian
Windows 8.1 Pro with WMC (64-bit) — Russian
Windows 8.1 Enterprise (64-bit) — Russian
Windows Embedded 8.1 Industry Pro (64-bit) — Russian
Windows Embedded 8.1 Industry Enterprise (64-bit) — Russian
Windows 8.1 N (64-bit) — Russian
Windows 8.1 Pro N (Retail) (64-bit) — Russian
Windows 8.1 Pro N (Volume) (64-bit) — Russian
Windows 8.1 Enterprise N (64-bit) — Russian

Features of the assembly:
- Updates are integrated on December 12, 2017;
- Integrated NET Framework 3.5 (includes .NET 2.0 and 3.0);
- Language packs are integrated: English, Russian;
- Cleaned folders: WinSxS \ ManifestCache and WinSxS \ Temp;
- The systems were not in the audit mode.
All changes were made by standard Microsoft tools.

Download:
Part 1: http://dl.downloadly.ir/Files/Software2/Win8.1_AIO_24in1_Dec2017_x64_Downloadly.ir.part1.rar
Part 2: http://dl.downloadly.ir/Files/Software2/Win8.1_AIO_24in1_Dec2017_x64_Downloadly.ir.part2.rar
Part 3: http://dl.downloadly.ir/Files/Software2/Win8.1_AIO_24in1_Dec2017_x64_Downloadly.ir.part3.rar
Part 4: http://dl.downloadly.ir/Files/Software2/Win8.1_AIO_24in1_Dec2017_x64_Downloadly.ir.part4.rar